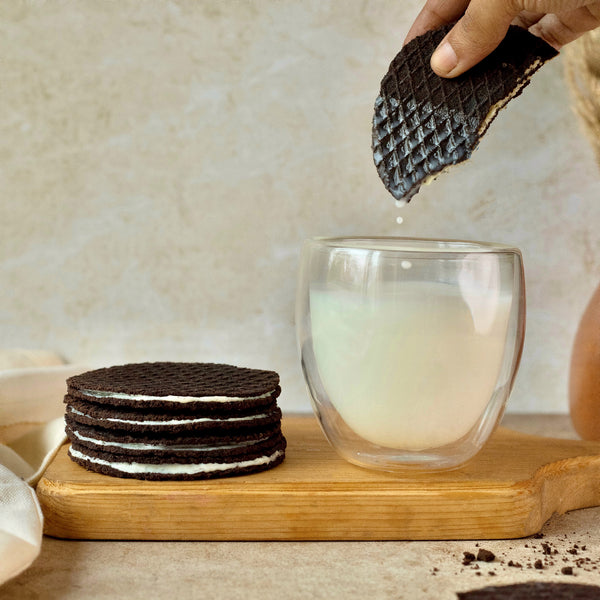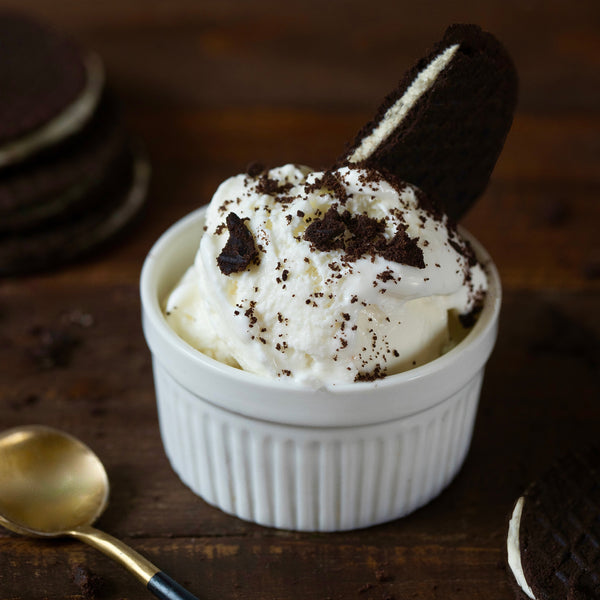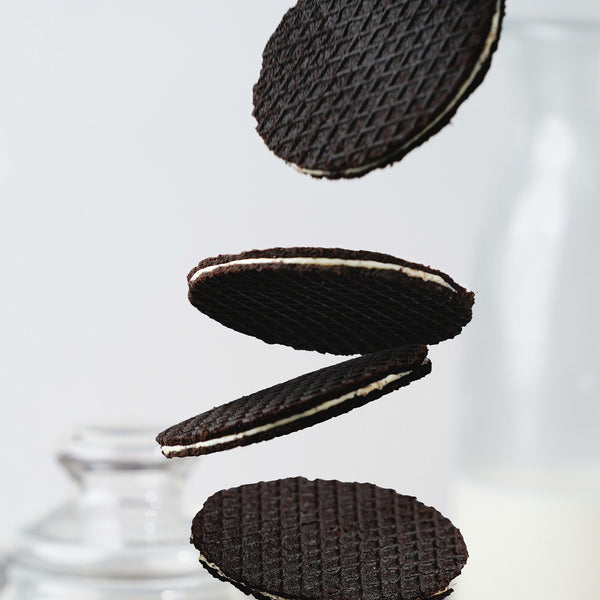 Waffle Cookies - Cookies & Cream - 5 Pieces
Experience a whole new way to waffle!
We've taken a classic and amplified it in a new avatar.
Savour a familiar yet unique experience each time you bite into these crumbly and creamy waffle cookies. These treats are also the perfect pick when you're spoilt for choice. 
Basic Info
‣ 100% eggless
‣ No artificial colours or preservatives added
‣ No trans fat
‣ Store in a cool dry place 
‣ Shelf life: 6 months
‣ Net weight: 350g
Ingredients
Cookies (65.7%) [Refined Wheat Flour (Maida), Hydrogenated Vegetable Fat, Sugar, Cocoa Powder, Refined Palmolein Oil, Invert Syrup, Starch, Salt, Raising Agent [Baking powder, INS500(ii)], Emulsifier & Stabilizer [INS471, INS322, INS415], Cream (34.3%) [Sugar, Milk Solids, Cocoa Butter, Emulsifier (INS322(i), INS476) CONTAINS ADDED NATURE IDENTICAL FLAVOURING SUBSTANCES- VANILLIN]
CONTAINS ADDED NATURE IDENTICAL & ARTIFICIAL FLAVOURING SUBSTANCES (VANILLA)
ALLERGENS: CONTAINS WHEAT, MILK SOLIDS & SOY. MADE IN A FACILITY WHICH ALSO HANDLES PEANUTS, TREENUTS, SESEME AND THEIR PRODUCTS
Nutrition
Average Value per WAFFLE COOKIE (35g)
Energy................................ 184(kcal)
Protein ..................................... 2.9(g)
Carbohydrate ........................ 19.6(g)
of which
Total Sugars ........................... 6.7(g)
Added Sugars ......................... 5.5(g)
Total Fat ................................ 10.4(g)
of which
Saturated Fat .......................... 4.5(g)
Trans Fat ................................... 0(g)
Cholesterol .......................... 0.9(mg)
Sodium .............................. 91.9(mg)